factory price 80 100 120mm single side led lightbox frameless canvas light box
Item No.: HBMC-80/100/120
80-120mm frameless fabric light box with new design thicken aluminum profile, edge-lit led3535 or back-lit led 3030 are all suitable for this type fabric light box. HD tension textile fabric poster printing.
INQUIRY
Light box description:
| | |
| --- | --- |
| 80-120mm frameless fabric light box with 2017 new design made of thicken aluminum profile. Edge-lit led 3535 or back-lit led 3030 are all suitable for this type fabric light box. HD tension textile fabric poster printing. They are always used for shopping mall, mobile phone store, exhibition display .... | |
light box Specification:
Model
Frame Depth/mm
Aluminum thickness
Aluminum N.W.
Picture
HBMCX-80
80mm
2.0mm
1.52kg/m
HBMC-100
100mm
1.8mm
1.34kg/m
HBMC-120
120mm
2.0mm
1.65kg/m
Frame Color
Silver,customized colors available
Shape
Square and special shape
Hang type
wall mounted or free standing
Poster print
UV,3P fabric,textile,french fabric
80-120mm Light box Product details:
01. Embedded Poster Simply and Special zigzagged "U-shape"design
02. Unique design solid up to 2.0 mm wall thickness
03. Highlight energy saving LED light source
Color options for snap aluminum profile frame--color customized ( customization cycle needs to contact our sales)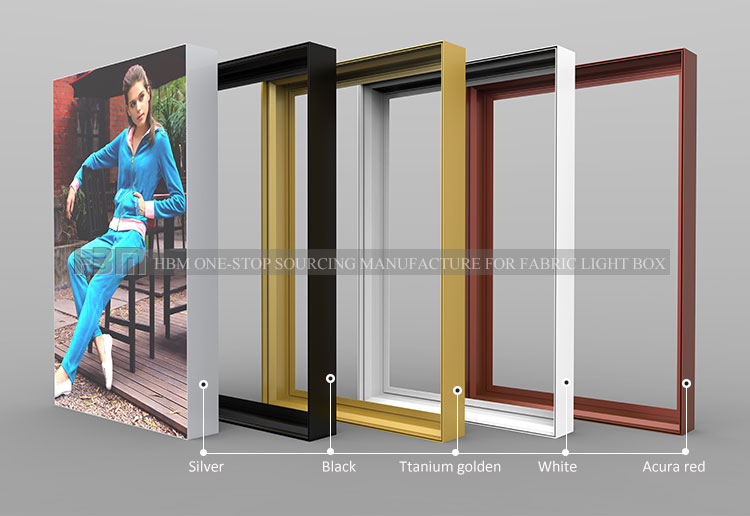 80-120mm light box accessories:
01.UV printing tension fabric poster sewing with rubber strip
02.4 big coner connector A (4 big coner connector B for HBMCX-80)/ 4 small corner connector A/Φ6 hexagonal screw spanner
03.Corner connector location
04.90° Aluminum frame seamless splicing
Light box light source matching scheme:
There are two choices of led lighting source for new fabric light box (thicken type): side-lit led (smd3535 high power led) or back-lit led (smd2835/smd5050 and smd3030)
Single Side Frameless Fabric Light Box Installation Instructions:
Installation Steps:
1.Confirm the location and mark on the wall
2.Drill hole and insert expansion screws
3.Put the connectors on the frame
4.Splice 4 corners and fix by screws
5.Put the back panel on the frame then fix
6.Put the frame on the wall
7.Fix the LED light on the back panel
8.Connect power supply with corresponding positive and negative wire
9.Insert the 4 corners of the poster into frame
10.Insert the rest parts of the poster into the frame
11.Finished products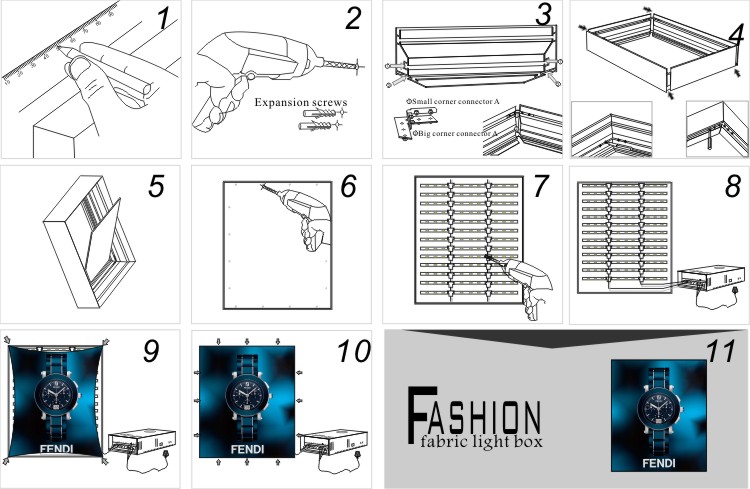 APPLICATION CASE OF ULTRA THIN FABRIC LIGHT BOX:
80-120mm depth single side aluminum frame is used in advertising fabric light box which advertises not only for the beauty /clothes/decorations and shooping mall etc brand advertising, but also for the exhibition display.